MIndfulness in Research and Healthcare Videoconference Oct 29 7:00 – 8:30 PM
October 29, 2020 @ 7:00 pm

-

8:30 pm

$25 – $50
Event Details
In lieu of our bi-annual in-person Mindfulness Research Symposium, SickKids is delighted to be hosting an online evening workshop with leading researcher and physician in the field Dr. Ronald Epstein. The workshop will be followed by a panel discussion made up of Dr. Epstein and special guest mindfulness researchers.
Through this event, SickKids is continuing its commitment to support leading edge research and exploration of mindfulness in healthcare settings. This event will build upon the inaugural Mindfulness Research Symposium with an aim to explore how mindfulness can address the short-term and long-term impacts of COVID and beyond. An in-person day long Mindfulness Research Symposium is currently being planned for fall of 2021.
Schedule
6:00 pm – 6:15 pm
Welcome & presentation on Mindfulness at SickKids by Event Co-Chairs
6:15 pm -7:45 pm
Keynote Workshop: Ronald Epstein
7:45 pm – 8:30 pm
Panel with Keynote Ronald Epstein & leading guest researchers in the field
Workshop Abstract
Title:
Turning toward dissonance: being present and robust in times of fear and chaos
Learning objectives:
Describe how people tend to respond to threat and "mortality salience"
Review evidence regarding effects of mindfulness-based practices for health professionals on well-being, clinical effectiveness, job engagement and teamwork
Demonstrate simple practices that can help health professionals and leaders be more attentive, curious, present, open and connected in facing these threats
Describe benefits and challenges in creating a sense of community and solidarity
Healthcare professionals are on the frontlines facing the coronavirus pandemic, political tensions and racial injustice, and most are feeling vulnerable and uncertain about the future; our professional roles, personal identities and the lives of our loved ones are on the line. Yet, it is possible to help ourselves and others face these challenges feeling robust, connected and effective. In this workshop, Dr Epstein will discuss models that help understand and explore common reactions to these extraordinary stressors, and show how, by developing habits of attentiveness and curiosity when experiencing threat, we can become more connected to patients and colleagues, more compassionate to ourselves and others, and more effective as clinicians and leaders. He will propose some simple practices that can be used during the workday to promote presence, curiosity and attentiveness, and help us thrive amid chaos, fear and uncertainty. Finally, he will present data suggesting ways in which mindful practice interventions enhance well-being, effectiveness, job engagement and teamwork in health care settings.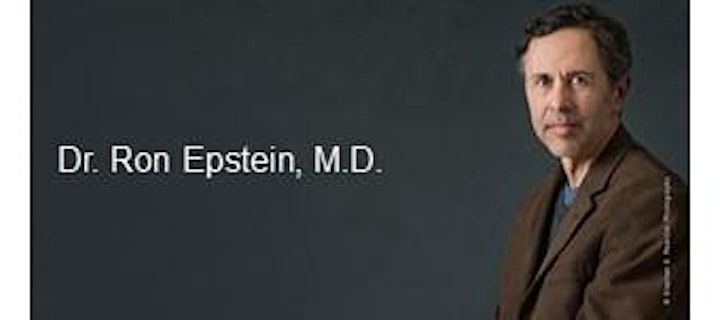 Profile
Ronald M. Epstein, M.D. is Professor of Family Medicine, Psychiatry & Oncology at the University of Rochester Medical Center. He is board-certified in Family Medicine and Hospice and Palliative Medicine. He serves as Director of the Center for Communication and Disparities Research and as Director of the Dean's Teaching Fellowship Program for junior and mid-career faculty.
Dr. Epstein's NIH-, AHRQ- and foundation-funded studies have added to our understanding of the impact of patient-physician relationships and communication on health, the process of care and health care costs. In particular, his research has focused on patient-centered care, patient influence on clinicians' practice patterns, and clinician mindfulness and self-awareness. Dr. Epstein's research has addressed important barriers to communication, compassion and patient/family-centered care. His observational and intervention studies have focused on AIDS, depression, somatization, advanced cancer and care at the end of life, and also address racial and social disparities in the achievement of patient-centered care. His seminal work on mindful practice and shared mind addresses how self-awareness of underlying biases and attitudes influences the patient-physician relationship and quality of care.
Over the past 25 years, Dr. Epstein has developed innovative educational programs in mindful practice, communication skills, the patient-physician relationship, physician self-awareness and assessment of professional competence, including peer assessment. His widely cited papers on educational theory and practice have been published in JAMA and the New England Journal of Medicine. In 2009, his team demonstrated the positive effects of an educational program in mindful communication on physician empathy, burnout and clinical care. He has over 170 peer-reviewed publications relating to communication in medicine and medical education, and an additional 60 chapters, editorials and monographs. He has produced influential monographs on patient-centered care for the National Cancer Institute (2007) and American Board of Internal Medicine (2008).
Event Co-Chairs
Elli Weisbaum has worked internationally facilitating mindfulness workshops and retreats within the sectors of education, healthcare and business. This has included work in Canada, Bhutan, India, Germany, France, the UK and USA. She is currently based at the University of Toronto as an instructor for the Applied Mindfulness and Meditation Certificate Program and a PhD Candidate in the Faculty of Medicine. Her research focuses on applying mindfulness to physician wellbeing. She is a certified teacher in the Search Inside Yourself (SIY) program which was developed at Google Headquarters and brings together mindfulness, emotional intelligence and neuroscience. Since 2015 she has been a member of the Mindfulness Project Team at The Hospital for Sick Children, which acts as a hub for mindfulness initiatives across the hospital. She is currently part of a team of facilitators who are offering the Mindful Awareness and Resilience Skills for Adolescents (MARS-A) program for adolescents with chronic illness at the Hospital for Sick Children. She is a board member for the Mindfulness in Education Network (MiEN) and is on the health docket review team for the Pollination Project, which gives out seed grants to individual changemakers all over the world. She attended her first retreat with Zen Master and Nobel Peace Prize nominee Thich Nhat Hanh at the age of ten. After completing a masters degree focused on integrating mindfulness into education, she spent a year as the international program coordinator for Wake Up Schools, a global initiative to cultivate mindfulness in education. www.elliweisbaum.com
Sara Ahola Kohut is a clinical health psychologist with the Inflammatory Bowel Diseases Centre at the Hospital for Sick Children in Toronto, Canada. She is also an Associate Scientist with the SickKids Research Institute as well as holds appointments at both the Department of Psychiatry and Institutes for Medical Science at the University of Toronto. Clinically, Dr. Ahola Kohut works exclusively with children and adolescents living with chronic disease and their families. Her program of research focuses on building resilience in youth with chronic disease and covers two main foci: 1. building meaningful peer and social supports and 2. mindfulness-based approaches to living with chronic disease (exploring both mechanisms and interventions). Dr. Ahola Kohut's research capitalizes on innovative approaches via the Internet to improve access to resources and interventions.